Thursday, December 16, 2010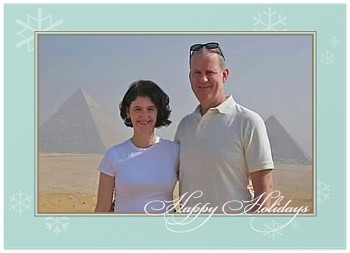 Shimmering Snowflakes Holiday 5x7 folded card

Sunday, December 12, 2010
True, I technically have one more day of work before the lights go out on 2010 professionally speaking, but mentally, I am already there.
Although we saw alot of shows in 2010, our annual show tally took a big hit given the events of 2010. So, on Saturday, we hit a double-feature theatre day so to speak with the matinee of WHEN WE ARE MARRIED (a J.B. Priestley play at the Garrick Theatre)
and LEGALLY BLONDE (a fun but goofy musical based on the film of the same name and showing at the newly renovated art-deco Savoy Theatre).
Both show receive a thumbs up from our perspectives and were definitely worth a few laughs, and a nice "feel-good" reaction at the show's conclusion. The Budman surprised me with a dinner at the newly renovated Savoy Hotel River Grill between shows. Interestingly, the elderly couple seated next to us at dinner, who were Savoy River Grill regulars pre hotel renovation, told us repeatedly throughout dinner that there "used to be a view of the Thames from the restaurant." We can confirm there is no longer a view but it was still a lovely restaurant with a great ambience.
I like the way that Christmas Vacation 2010 has kicked off!
It has been a little over a weekend after Missy's arrival in London, so we began to worry when day 6 hit and she had eaten nothing...nada....no mas! How can that be? This little cat is a porker (in the sweetest sense of the word) so we determined that a trip to the vet was certainly in order.
Of course, I was in Warwick on a business trip when this situation erupted so a concerned Budman took off a bit of time from work to rush Missy to the vet. Good thing we did as she had lost about 200 grams of weight in a week or about 11% of her body weight in 6 days. Not a good situation, not a terribly convenient one either.
After tests, blood work, and a bit of forced syringed feeding, the only thing our vet could really say is "What is it with you two and your menagerie of cats?". Code for "we can't find a thing wrong with her really". Other possibilities emerged as explanations for the loss of appetite, such as stress from the journey to a new home in the UK, new pet owners, and perhaps even the death of her previous owner. Whatever the reason, we were charged with trying to find something - anything that she would eat.
Next stop, Sainsbury's where we walked the pet food AND seafood aisles for canned, dry, or moist food that Missy might eat. We bought one of everything! And after the taste test that ensued on Sunday, we have found one tin of wet cat food that she will eat. That's the good news.
The bad news is that Ginger, who is only allowed to a special type of cat food due to HER heath related issues, and who is now blind and deaf, apparently has a nose that still works really well. She has now been dubbed as "nadar" as the moment Missy's food is put out, "the nose knows" and she takes off in the direction of the other food.
One cat who won't eat, and one cat that only wants the other cat's food.
Yea....'nuff said.
Sunday, December 05, 2010
Of course the moment that THE wedding was announced, the race to get the first "William and Kate" merchandising out the door was on. We can certainly expect the obligatory plates, mugs, pictures, tea towels, etc. but do I really need a souvenir oyster card with their mugs on the face of the card?
For those who are not in the know, an "oyster card" is a plastic chipped card that allows travelers in London to pay for underground train and bus journeys instantly. And yes, the card is set to get a special makeover to feature an image of the happy couple.
It has been noted on the Transport for London website that locals and tourists will be able to snap up the one-off cards but time is of the essence as they will be produced in a restricted volume. Hurry, hurry!
As for me, I think I will take a pass on this souvenir item. Quite frankly, I have my wedding souvenir already earmarked. You see, the happy couple have picked April 29th, 2011 as their wedding date, and this particular Friday has been declared a national holiday (translation: a day off from work). The preceding weekend is Easter, and in the UK, Good Friday and Easter Monday are both national holidays as well. When I combine the 3 holidays and 4 weekend days, I can take 10 consecutive days off for the price of 3 vacation days. Now that is a souvenir I can get on board with.
And before you say, "Bah Humbug - you live in the country, you should celebrate the day in the city", the Budman and I have already decided we are fleeing the country during this royal spectacle. I can watch the wedding like the rest of the world...on TV.
Apparently this week is already being dubbed as the most unproductive work week of 2011.